Burlesque at the Beach
<![if !vml]>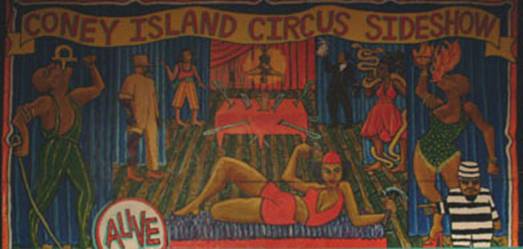 <![endif]>
at Coney Island, USA!
Coney Island is a great place for burlesque. The carnival and sideshow atmosphere combined with the people's beach provide a nice gritty mix. But burlesque had been missing from the scene since the mid-1950's when Tirza's Wine Bath left the area. It was only in the mid-1990's when the performance art of Bambi the Mermaid merged with the sideshow skills of The Great Fredini did burlesque and the wine bath come back to Coney. 
I had seen the floats at the Mermaid Parade but did not get around to checking out Burlesque at the Beach until 2003. The shows take place during the summer season at Sideshows by the Seashore – right after the Friday night fireworks have floated down to the water and attract quite a varied audience to climb the bleachers with their drinks in hand from the Freak Bar.  The weekly shows showcase  performers and troupes from near and far.  Check out the Coney Island website for information about past and future events at Burlesque at the Beach (as well as the section of the Message Boards devoted to Sideshows, Circus, Freaks & Burlesque).  My travel schedule took me out of town a lot this year but I did manage to catch a number of great of shows and photographed at several. Here are a few images from
Bambi's Burlesque All-Star Wine Bath.
The Bombshell Girls' Ladies Night Out;
Fisherman's Xylophonic Burlesque Orchestra
The World Famous Pontani Sisters
As well as a sampling from America's Favorite Burlesque Gameshow "This or That"
Photos Copyright by Ed Barnas. All rights reserved. .
Page updated
5 December 2004